Recent changes in FDA guidelines have resulted in limited to no access to human chorionic gonadotropin (hCG) due to compounding pharmacies no longer being able to manufacture hCG unless they have the required Biologic License. This would result in costs exceeding millions of dollars, and years to complete the new required FDA-approved facility.
Anyone offering hCG from a compounding pharmacy is doing so illegally and is only continuing until they run out of their supply as the FDA ordered all drug suppliers to no longer supply compounding pharmacies.
Royal Medical Center works with reputable FDA-regulated pharmacies that are following these new guidelines that were put into place. With the new hCG guidelines, costs will be much higher for brand name hCG, such as PREGNYL, and there is a shortage of supply resulting in back orders and out of stocks. As of today, all manufactured versions of hCG are currently on backorder. Due to these strict guidelines put into place by the FDA and the shortage of hCG, Royal Medical Center sought a replacement for hCG to continue to offer our patients. Royal Medical Center was the first that completed months of clinical trials on numerous patients using Gonadorelin. The rumors that the prolonged use of Gonadorelin causes pituitary suppression resulting in an LH level of 0 are false. There are no medical studies, medical journals, clinical trials, or evidence showing that the correct dosing of Gonadorelin causes pituitary suppression or a luteinizing hormone (LH) level of 0 with numerous applications. Below is a sample lab on Gonadorelin confirming the results that Gonadorelin works more effectively than hCG as hCG does not actually raise LH, only mimics it.
Prevent Testicular Atrophy
Royal Medical Center has worked with several US FDA-regulated Compounding Pharmacies in the testing of Gonadorelin by completing numerous labs on patients during a 4 month period of time. We continue to monitor the success of Gonadorelin and any new findings will be updated accordingly on this page. At this time, Royal Medical Center is the only clinic that has done clinical trials to show the effectiveness of Gonadorelin during therapy. There is much speculation that Gonadorelin needs to be administered in a pulse fashion via IV. Our labs show that when it is dosed correctly, Gonadorelin will show a rise in LH levels, which hCG has never done while on testosterone therapy.
Why is the dosing so important for Gonadorelin?
A high continuous dose of Gonadorelin will shut down the luteinizing hormone (LH) which produces your natural production of testosterone

A low dose of Gonadorelin will increase your LH
LABS ON GONADORELIN & TESTOSTERONE:
Royal Medical Center completed hundreds of labs on patients to provide factual information that shows while taking Gonadorelin there is in fact an increase in LH levels that is maintained throughout therapy. The labs provided below are just sample labs on Gonadorelin.
The first set of labs shows a baseline while the patient was on Testosterone Therapy with hCG prior to starting the Gonadorelin protocol.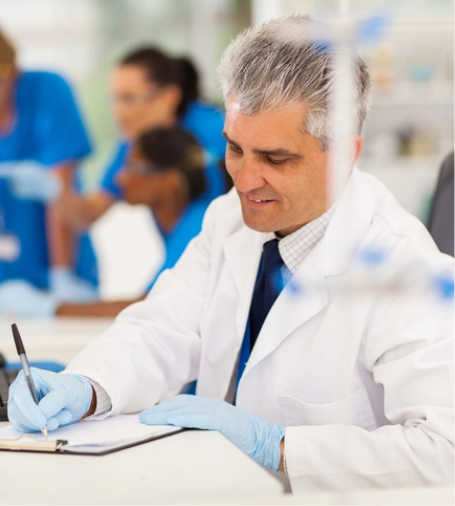 Baseline Labs while on Testosterone & hCG:
The labs below are of Patient "A" while on hCG with Testosterone prior to the change of medication to Gonadorelin. Note that the patient's LH level is <0.3. This is typically the case for patients who are on Testosterone Therapy with hCG.

Labs on Gonadorelin & Testosterone
Patient "A" has now been prescribed their revised protocol and has now been using Gonadorelin for a time of 1 month. An increase of LH to 4.8 from <0.3.

Patient "A' is now 2 months on Gonadorelin maintaining LH levels of 3.3.

Patient "A' is now 3 months on Gonadorelin. LH levels of 2.9

Patient "A' is now 4 months on Gonadorelin. LH levels of 3.5