Don't be fooled by the hype on TV commercials. The truth is testosterone creams and gels simply do not deliver enough testosterone for men to elevate their levels to optimal range. Men will not be able to absorb enough of the creams or gel to effectively raise their testosterone levels. For that reason, the doctors at Royal Medical Center do not prescribe them for men.
The goal of effective testosterone therapy is to optimize levels. The bar graph below clearly illustrates (over a 60-day period) the effectiveness of testosterone injections for men prescribed by doctors, compared to the testosterone gels and creams you see on TV.
Where would you rather be on the chart?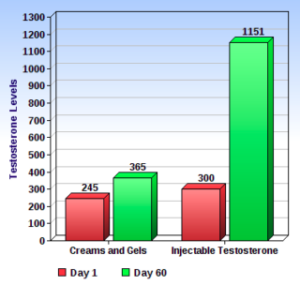 Another alarming fact is that most men who are prescribed creams and gels for hormone treatments do not receive the essential supporting medications.
Testosterone therapy alone causes hormonal inconsistencies when it is not accompanied by the correct supporting medications. When treating a patient with Low T, a competent physician should be testing and addressing other hormones as well. Treating a man for Low T is not just about raising his testosterone level. It's about properly balancing all hormones that contribute to the patient's condition. This is why the supporting medications are vital for a patient's well-being.
Royal Medical Center has a fine tuned, proven and complete therapeutic programs for men and women to optimize levels and help you feel your very best.
If you were to call one of these clinics, they would be extremely vague about their pricing. They will do everything within their power to get you in their front door without ever disclosing what the end pricing will be. The majority of these claims are just what they are, claims.